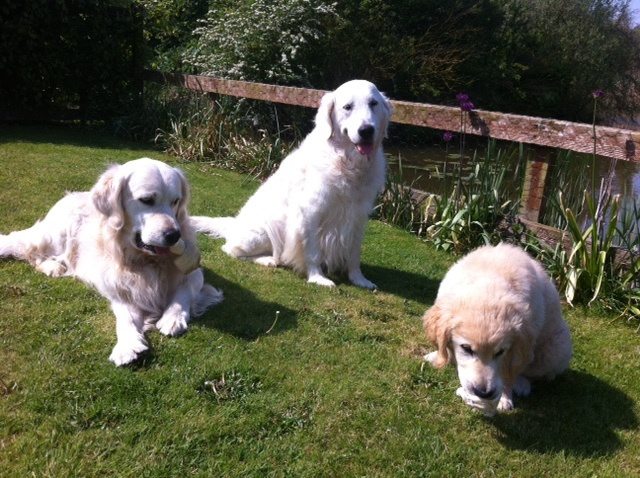 Friday May 18
Another hectic week for us retrievers -
even if it does look like we've spent the whole time sunbathing (and eating, as in Stupid Brother and Puppy Monster's cases).
We had three complete (well, Greg
Watkins wasn't quite complete)
strangers tramping round the house,
giving Mum and Dad valuations. Looks
like they are thinking of moving.
"Somewhere with land for you, Boss," said Dad. "Somewhere with land for the horse - and Puppy Monster more like." (why am i always last on the list in this house?)
Talking of PM - he got to go on a viewing to a detached barn conversion on the edge of the Chartley Estate with THREE acres.
"What was it like?" I asked him, eager to know where my bed would go and how big the sun terrace was. "Got goats," he said. "Goats?" I asked. "Got goats," he repeated. Boy, he's a real conversationalist, this one. Quite clearly his education is only in the very early stages. Critiqueing War and Peace is a l-o-n-g way off yet, obviously...
And as if PM's special treatment hasn't gone far enough, he's been signed up for a five-week puppy socialisation class at South Staffs Dog Training. Apparently, he was a star.
Well he would be, wouldn't he? *Huffs* That's the same place that SB was awarded his Kennel Club Good Citizen Bronze Award. If I had been given the chance to take that, I would surely have passed my Gold Award in super-quick time at the first attempt. *Sulking*
And what do I get in return? While PM is hob-nobbing it and showing his cutesome puppy expression at Grandma-Grandpa's, I'm having my Cartrophen jab. Grrrrr...