Friday May 13, 2011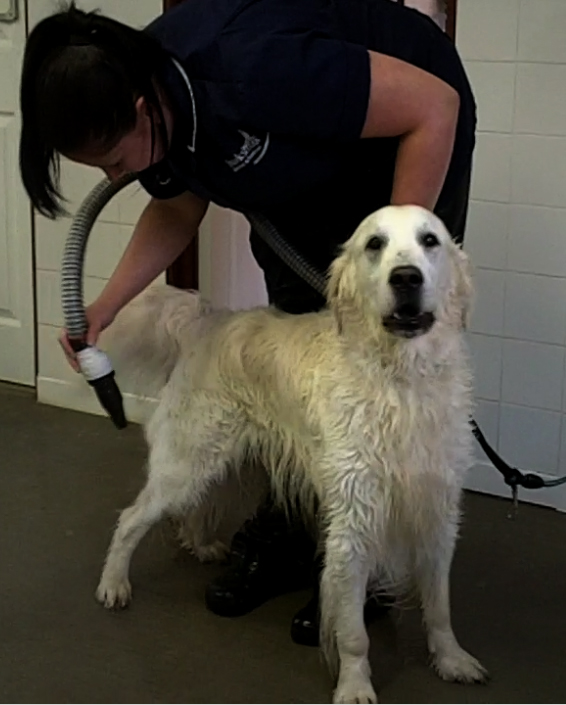 Well, I'm feeling great after another terrific Thursday. I enjoyed my walk round the National Forest with Mum, SB, Louise and SP (Sensible Pup).
I dragged my feet as always but by half way, I was in my rightful place - way out in front - probably because from there it's all downhill to home.
Then I had a fun time at Louise's, eating horse
poo and playing with her three Weimaraners
(well, stealing their toys and dragging their beds
outside, which to my dismay I found are all more comfortable and sweeter smelling than mine - probably because they're all girls).
I thought I'd make a manful approach to Bracken, who at 13 is definitely the older woman, but it didn't go quite according to plan and I think
I can deduce she doesn't fancy me. I confess I'm at a loss to understand how she could resist my charms but there you go - some you win, some you lose.
I'd barely had time to catch 40 winks when it was off to my weekly
hydrotherapy session. I know what's coming now and was dead excited about a
longer swim and the much-anticipated hairdryer afterwards.
I tried my best to roll and Dad had to rein in my enthusiasm as apparently
I was on the verge of "letting the side down" (according to Mum). I was a bit
miffed at this comment as I wasn't the one who had to be manhandled
back to the car.
SB couldn't stand watching me have all the fun and wasn't able to contain
his excitement so had to be removed from the pool area for fear of him
bellyflopping in and ruining MY therapy session. Go back to ringcraft or
gundog training you fool.
Roll (o) on next week!